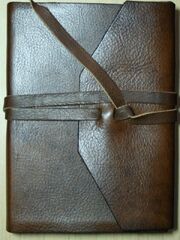 Humanity's Hope is a book written by Lallus about the line of Commander Kepler S.
Storyline
Edit
The book follows the adventures of Commander Kepler S. and his line.  Summaries of the four parts can be found here:
~To be added
Throughout time, a lot of the book was lost, especially between the roleplays Aftermath and Dark Times.
"Because....Agent Staley is AN IMBECILE!!!" -Commander Kepler
"I SUMMON THEE, GREAT KEPLER, FROM THE DEPTHS OF THE NECROTELEMANTIC ABYSS, TO JOURNEY WITH US ONCE AGAIN ON THE GREAT TREK OF LIF--
"-- TO WANDER AGAIN WITH A MORTAL BODY, CONTAINING THY SOUL, TO LIVE A FULL LIFE, TO LOVE THOSE YOU LOVE, TO HATE THOSE YOU HATE, TO TRAVEL THE INTERNAL DIMENSIONS ONE DAY WITH A CRAZY MADMAN, TO DECEIVE THOSE YOU DECEIVE, TO KILL THOSE YOU KILL, TO REVIVE THOSE YOU REVIVE, TO REWARD THOSE YOU REWARD...
...
... AND TO LIVE AGAIN." -Lallus

"We could be chasing terrorists, or fighting demons, or throwing darts at a picture of Schlecht, or heck, even go on a date if I'm lucky and you're high. But not zombies." -Commander Kepler to Carissa Blake

"What took you so long? I'm almost done. It took me forever to decide, and they had no Coke..."
"Scott, life without coke is like a day without high-fructose corn syrup mixed with sugar, sodium, caffeine, and a small quantity of water." -Corporal Scott S. and Warrant Officer Kepler
"Zap! Bang! Pervert!" -Lallus
"The gears have been set into motion, and time cannot be set back. Alas, for what can one do, even one as powerful as I, except for watch how it all plays out in the end? And although the past cannot be changed, there is still hope. There will always be hope, as long as the line of the Commander survives to bring hope to the human race."  -Lallus

"Was ist seine..."
"I think English will do, Lallus."
"Right, then. What's yo name, punk?" — Lallus and Kepler S.